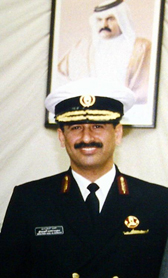 Brief information on the Founder & CEO of Trident International:
I have served Qatar as the First Qatari Commander in Chief for the Qatar Navy, serving my country in uniform for more than 30 years, 10 of which was in the highest position in the military service, I have retired in the rank of General.
Having spent 12 years with the British Royal Navy in the Military Institute and Colleges, 2 years with the French Navy (Marine National), and was a Project Manager for building very advanced warships for the State of Qatar.
After retirement, I was selected by NATO to be an International lecturer on Maritime Affairs and on Maritime Counter-Terrorism, to which I'm proud that, the United States Defence Department & US Navy have accepted and adopted 4 of my 6 recommendations to fight piracy in the Horn of Africa.